In the group of Brazil, Switzerland immediately took three gold points. One goal was enough against Cameroon. One from a Cameroonian: Monaco striker Breel Embolo.
Key moment: Goalkeeper Yann Sommer grabbed an attempt from Mbeumo early on and then lucky Toko Ekambi aimed the rebound over. Switzerland did well there.
Man of the match: the danger in Switzerland came mainly from Xherdan Shaqiri. He gave the assist for the 1-0. Vargas could also have made it 2-0 on his instructions.
We will also remember him: Breel Embolo, Switzerland's goalscorer who didn't cheer because he was born in Cameroon
Breel Embolo did not cheer when Shaqiri offered him the 1-0 from the right. He had promised that beforehand. The Swiss international is torn between two countries. Embolo was born in Cameroon, but grew up in Switzerland. However, he spends his holidays in Cameroon, where his father still lives and where he now also knows a lot of the internationals. He could have even opted for the national team, but in the end he opted for Switzerland since the U16. "Ever since I chose to represent Switzerland, there has always been a part of me that wanted to play for my native country," said the Monaco striker. "But you can't do what you can do at club level and play for two different countries."
The first and only goal, immediately after the break, fell against the game proportions. In the first half, which was mainly sharply defended, Cameroon had a slight preponderance. A very Belgian tinted Cameroon even. AA Gent defender Michael Ngadeu was not allowed to go to Qatar, but in the base were ex-Rouche Collins Fai, Hongla who played at Antwerp, KV Mechelen player Gouet and Jean-Charles Castelletto, on a blue Monday at Club Brugge (and a red tuesday at Mouscron). Hongla had a chance, but Switzerland still has the rock-solid Sommer in goal. He pushed the ball away. But the goal must have fallen before. An action on the left, via Mbeumo, ended up on Sommer's fists. After which Toko Ekambi aimed the rebound over.
Switzerland struggled to find openings in the first half. La Nati only had opportunities on set pieces. Widmer, but especially Man City defender Akanji, did not get enough from a header. However, the early lead in the second half brought more space, on both sides. Cameroon counted on Choupo-Moting, in top form at Bayern, with an action along the back line. Or on Napoli midfielder Anguissa. They couldn't get past Gladbach goalkeeper Sommer.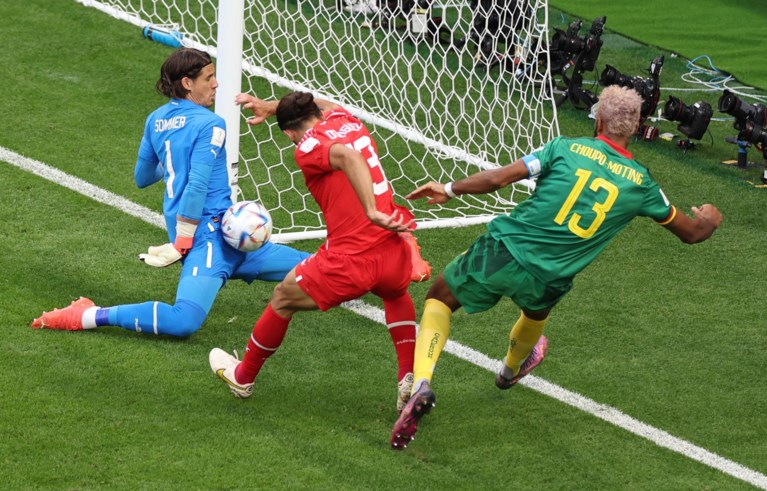 His colleague Onana also claimed a leading role. In Switzerland, the danger came mainly from Shaqiri on the right, but another good pass to Vargas ended up on the Cameroon keeper. Embolo came close to a second goal, but Anguissa cleared up in time. The final quarter brought offensive substitutions on both sides, but The Indomitable Lions remained toothless. It was Switzerland that came closest to a goal via Xhaka and Seferovic.
The Cameroon national coach Song saw it powerless. Cameroonian federation chairman Samuel Eto'o said before the tournament that Cameroon could become world champion. And he means that. Well, if he could still play himself.
**
Switzerland: Summer; Widmer, Akanji, Elvedi, Rodriguez (90′ Cömert); Freuler, Genealogy; Shaqiri (72′ Okafor), Sow (72′ Frei), Vargas (82′ Rieder); Penis (72′ Seferovic)
Cameroon: Onana; Fai, Castelletto, N'Koulou, Tolo; Anguissa, Gout, Hongla (68′ Wave); Mother (81′) Choupo-Moting (74′ Aboubakar), Ekambi (74′ N'Koudou)
goals: 48′ Embolo (Shaqiri) 1-0
Yellow cards: 36′ Fai, 64′ Elvedi, 83′ Akanji
Referee: Facundo Tello (Arg)