It's an unwritten football law. Those who miss the opportunities are guaranteed to get the lid on their nose. That is exactly what happened to Lommel. The Limburgers bit their teeth on Bossut, substitute Gano had enough to kill his former team: 0-1.
A duel between a second division team with a home complex and a first division team that does not break any pots outdoors. In addition, two coaches who unpack with an experimental team and make it clear that the cup competition is not exactly their priority. That's not how you build customer loyalty. The turnout at the Gestelsedijk was therefore very poor on Wednesday evening.
It has to be said, at halftime we mainly had to deal with the Essevee fans, who had been on the bus for a few hours. The spectacle their team put on was exceptionally poor. The Lommel keeper Ivezic, a Montenegrin who made his debut with the Limburgers (not Kristof Van Hout!), should not have had to roll up his sleeves once in the previous 45 minutes.
Four times Bossut
Yes, the Jupiler Pro League tail team had the majority of the ball. But the SK defense, without experienced Wuytens, did not flinch and launched a sharp counterattack with the regularity of a clock. For example, left wing Roque came close to Bossut after only a handful of minutes. But it went down well. Something he had to repeat three more times afterwards.
For example, halfway through the first half, Vancsa steamed past Jan and everyone on the left, so it was again up to the veteran from Waregem to save the furniture. A second attempt by the Hungarian also met the same fate. But the chance of the first half was for Chadli. He trumped Miroshi in speed and stranded on… Bossut's foot.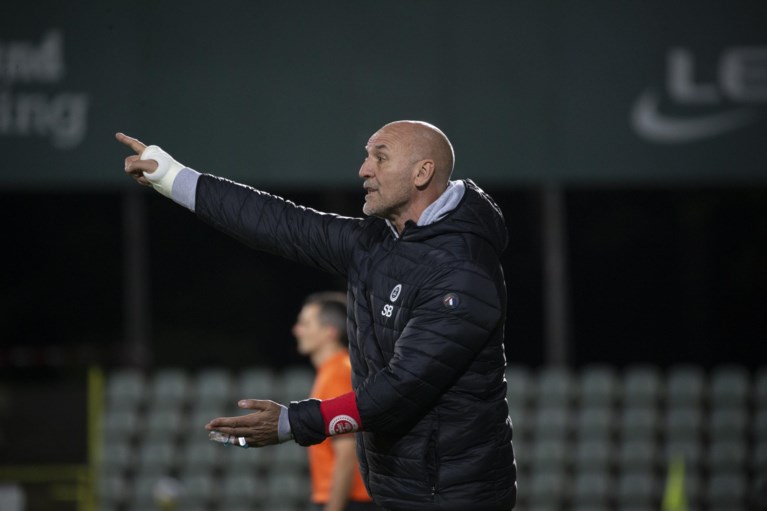 Foxes, Gano and Fadera in
So halfway through with glasses, only Mbaye Leye could accept that. For a moment afterwards, his players gave the impression that they would go up a gear. After Chadli lost the ball, Sissako, a bit selfish, penetrated deep into the Lommel sixteen. What followed was a carom. The ball went over the goal. Chadli almost immediately put things in order on the other side with a drop shot, just within Bossut's reach.
The signal for the Waregem coach to bring the 'big guns' into the field. Vossen, Gano and Fadera were allowed to try and cash in on qualifying and they did. Fadera guided lost son Gano through the offside trap on one of his first ball contacts and then you know what time it is. The first ball between the posts from the West Flemish side was immediately the right one.
The home team struggled for a while with a too weak header from Cauë and a shot over from Belghali. But a deserving Lommel is immediately, unlike last year, cupped. Zulte Waregem is not Charleroi.
LOMMEL SK: Ivezic – Monjonell, Amankwah, Tolinsson – Belghali, Thordarson, Granell, Roque – Chadli, Cauë, Vancsa.
ZULTE WAREGEM: Bossut – Tambedou, Willen, Miroshi – Ciranni, Sissako, Vigen, Sangaré, Drambaiev – Ndour, Offor.
SUBSTITUTIONS: 64′ Drambaiev by Fadera, 64′ Offor by Gano, 64′ Ndour by Vossen, 64′ Chadli by Martinez, 78′ Tolinsson by Anello, 78′ Vancsa by Kadiri, 81′ Sangaré by Rommens, 81′ Tambedou by Sörmo.
GOAL: 69′ Gano 0-1.
YELLOW CARDS: 33′ Ndour (foul), 51′ Sissako (foul), 67′ Gano (groan), 79′ Miroshi (foul).
REFEREE: Ken Vermeiren.
spectators: 750.