A fifth clean sheet, barely one loss during the group stage but still no group winner: Club Brugge finish second in group B after a scoreless draw in Leverkusen. Defensively it was solid, offensively it was too little. And that's why in the 1/8th final an absolute winner like Real Madrid, PSG or Manchester City awaits.
It was speculated for days how Hoefkens would put his puzzle together: Onyedika, Sylla, Odoi, Mata and Balanta were not among them. His solution was a three-man defense with Boyata, Mechele and Meijer, with Buchanan and Sobol as wingbacks. Nielsen moved back in line to replace Onyedika, while Sowah became the top central midfielder. Jutgla and Lang formed the attacking duo, but they had to be patient before they saw a ball. It was Leverkusen who quickly took the initiative. They had no choice but to play in an atmospheric BayArena: the Germans still had a view of the Europa League, but then they were not allowed to lose to Club.
Match explodes just before halftime
A flash war We didn't get any from the home team. Rather, call it sterile pressure. But Club initially created little during a constructive first half hour. Significant: the first corner fell about halfway through the first half, and until then the two goalkeepers had remained completely unemployed. Meanwhile, Club had claimed the ball, resulting in a few stagnant phases around sixteen.
But a real chance? Then they had to wait until minute 33. Diaby was released after a quick attack in the box, Mignolet had to float his shot from the farthest corner. A first warning that you should not give those fast wingers of the Germans a meter of space. Because Hudson-Odoi had also caused problems after a dribble in the sixteen. It had taken a while, but the match finally broke open. Club replied via Sowah. After good disturbance, the Ghanaian was allowed to print on the edge of the sixteen: Hradecky processed with the necessary effort. On the stroke of half-time, Frimpong kicked another imposed chance into the side net.
No goals at halftime. And especially Club needed it: due to Porto's lead, it had to win itself to become group winner. Hoefkens gave his boys a firm grasp on this, and Blauw-Zwart almost started the second half with a lead. A low cross by Sobol was kicked against the crossbar from a sharp angle. Sobol's rebound went wide.
The intentions were immediately clear: a draw was not enough on Tuesday evening. But Leverkusen also did not want to speculate on a draw with the Europa League in mind. Suddenly Club needed a world save from Mignolet on a header from Schick. It is now impossible to keep track of the candles they are allowed to burn for their goalkeeper during this campaign.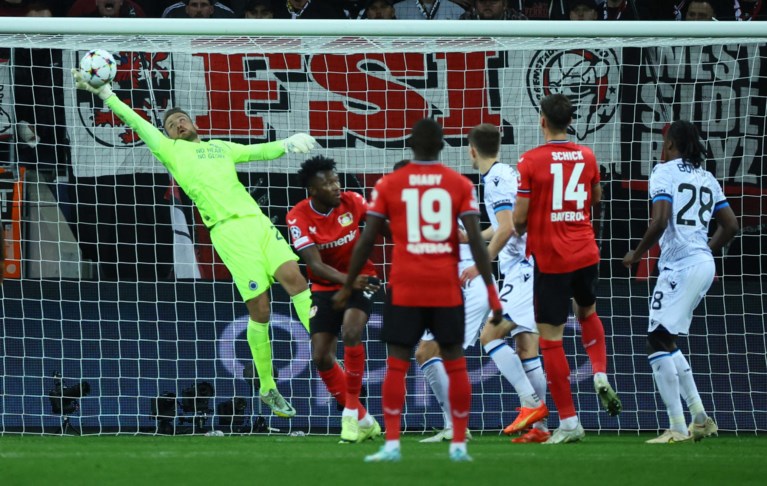 nerve-wracking
A flying start of part two was not followed up: both teams suddenly looked for their breath. The pace dropped noticeably and Club also struggled to create a threat. Meanwhile, Skov Olsen had come in for Lang, and at Leverkusen Amiri and Adli came in for Diaby and Hudson-Odoi. Ten minutes before the end, Hoefkens threw Larin into the fight to force something for the enemy goal.
It was a nerve-wracking ending. Not because of a deluge of opportunities, but because of the fact that group win seemed increasingly distant for the Belgian national champion. Although it eventually made peace with it itself, witness the fact that there was no rush involved in the final phase. Closing the group stage with a clean sheet and barely one loss: who wouldn't have signed up for that at the start?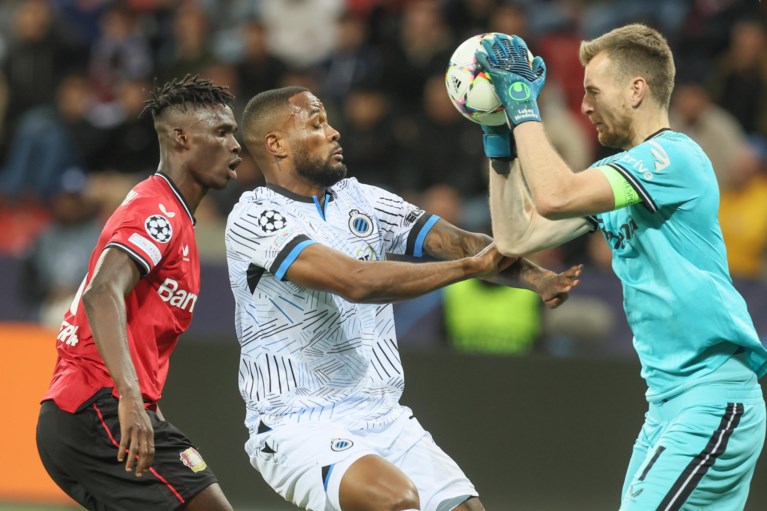 Leverkusen eventually forced a sequel in the Europa League due to Atlético's defeat, while Club is second in the group to the 1/8th finals. Next Monday, an absolute clapper will come out of the drum anyway. We won't know definitively who Club can draw until Wednesday evening. That will be another group winner anyway. Bayern, Manchester City, Real Madrid, PSG and the like: the sequel will be extremely difficult.
{
"title": "",
"content": [
{
"p": "Bayer Leverkusen: Hradecky, Tah, Tapsoba, Kossounou, Bakker, Frimpong, Andrich, Palacios (46' Demirbay), Hudson-Odoi (75' Amiri), Diaby (75' Adli), Schick (89' Hlozek) "
},
{
"p": "Club Brugge: Mignolet, Mechele, Boyata, Meijer, Sobol (79' Larin), Buchanan, Nielsen, Vanaken, Lang (67' Skov Olsen), Sowah, Jutgla (86' Yaremchuk)"
},
{
"p": "Doelpunten: /"
},
{
"p": "Gele kaarten: 37' Sobol, 43' Palacios, 63' Andrich, 82' Boyata, 84' Nielsen"
},
{
"p": "Rode kaarten: /"
},
{
"p": "Scheidsrechter: Maurizio Mariani (ITA)"
}
],
"type": "aside-inline"
}