Union has booked a frugal victory on Sunday afternoon: the vice champion played very poorly against Seraing, but thanks to a blundering Seraing goalkeeper and a light penalty, it can still add three points. Vanzeir and Teuma took care of the Brussels goals, Elisor milded on behalf of the home team.
After the European qualification it was all about Union to continue the positive line against low flyer Seraing. Geraerts warned that his players should not take it too easily, but that message did not get through: Union put on a very mediocre performance.
However, the team from Brussels did not start the game badly: Adingra immediately played on Boniface in the sixteen, but the Nigerian cracked his shot. A promising start, you would think. Although anyone who thought that was disappointed: only Teuma could really threaten with a free kick that exploded on the post.
Seraing presented himself a little more eager and fresh. Coach Jeunechamps had put down his pawns well, although he had to start playing chess after fifteen minutes: both Lahssaini – after a nasty collision with Opare – and Marius were unable to continue. Bunchukov and Elisor were their replacements.
Disallowed goal
Those substitutions didn't deter Seraing, however. Well, it wasn't like the home side was playing champagne football, but Union still had a hard time putting together a solid attack. Seraing watched on the counterattack, and scored too: Opare made a good jump at Lapoussin and servant Elisor, who found Bunchukov: the Ukrainian took Moris against the foot, but the linesman rightly raised his flag for Elisor's advance offside .
The second half had to improve for the inhabitants of Brussels, and for that they received a serious helping hand: Seraing goalkeeper Galje thought he had all the time in the world, but that was not counted on Vanzeir: the striker just nibbled the leather off the goalkeeper and laid in an empty goal inside: 0-1. A welcome gift for Union, which subsequently took more and more control of the game.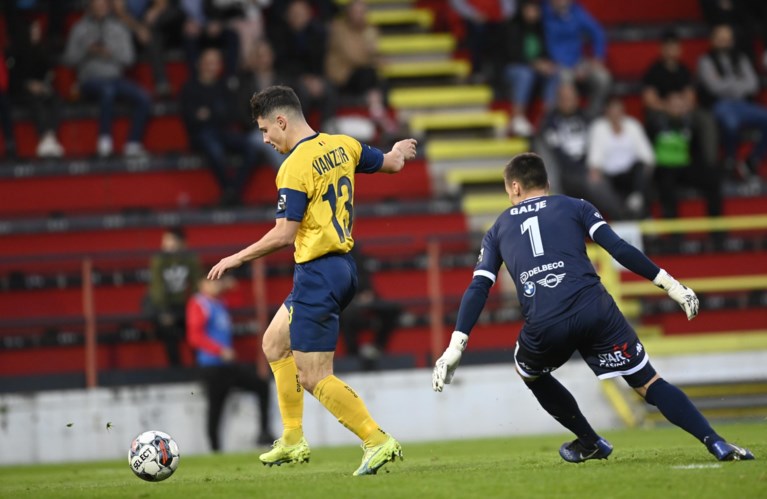 Game won… or not?
Seraing found it more difficult to keep the ball in his own ranks, and twenty minutes before the end the game seemed over: Lazare first received a yellow card from referee Put for a schwalbe, but after a VAR consultation the ball went on the dot after a slight violation of Bunchukov. Teuma didn't fail: 0-2.
Union seemed to have won the game, but in the final quarter it still paid shivering money when Elisor headed in the connecting goal from close range. The home team tried to force something, but Union held up easily. The team from Brussels came close to 1-3 a few times, but they couldn't score anymore. Union thus takes three important points with a view to the top four, Seraing remains in the relegation zone.
Seraing: Galje, Opare (73′ Conceiçao), Mbow, Sylla, Mansoni, Lahssaini (18′ Bunchukov), Cachbach (64′ Bernier), Abanda, Sissoko, Marius (18′ Elisor), Wagner
Union: Moris, Kandouss, Burgess, Van der Heyden, François (46′ Adingra), Lynen, Teuma, Lazare, Lapoussin, Vanzeir (90′ Puertas), Boniface (64′ Nilsson)
Goals: 47′ Vanzeir 0-1, 72′ Teuma (penalty) 0-2, 75′ Elisor 1-2
Yellow cards: 20′ Sissoko, 27′ François, 70′ Sylla, 75′ Elisor, 79′ Van der Heyden
Red cards: no
Referee: Bert Put