Club Brugge sweated many liters to put aside neighbor KV Oostende. Without convincing, Club Brugge went to the dressing room with a 2-0 bonus halfway through the evening. KVO rolled up its sleeves and Hornby quickly leveled the green-red-yellow in ten spicy minutes. Thanks to a penalty kick that Nielsen used in two times, peace returned over Jan Breydel.
Both trainers already built something in their line-up with a view to their next match. Hoefkens presented an experimental defense towards Leverkusen. The central defense duo Mechele-Boyota got Meijer on the left and Buchanan played as right back. At the front, Lang had to give up his place to Sowah. On the flank Nusa took over from the injured Skov Olsen.
Yves Vanderhaeghe kept Ambrose and Urghohide out of his selection. Both count four yellow cards and their presence next weekend in the cellar cracker against KV Kortrijk is a must. Katelaris and Atanga start the derby. Wylin and Osifo, two youth products from Ostend, won their first basic place of this season.
In the tenth minute, the first scoring opportunity unfolded. On the left, Jutgla sprinted at lightning speed and Phillips could only half clear his shot. How Nielsen aimed the rebound wide of the goal remains a mystery. Just before half an hour, Vanaken penetrated nice and deep into the rectangle, but Katelaris just put his leg in front of the ball. When Vanaken explored the KVO rectangle again a little after half an hour, he fired right, moreover through Tanghe's legs. High time for an answer from Ostend. From the left, Sakamoto found Hornby's head, forcing Mignolet into a Champions League reflex. The dream of an equalizer did not last long. A minute later, Vanaken cleverly sent the ball towards the far post, where Jutgla gratefully used Capon's backward headbutt to press hard: 2-0.
Spook
Early in the second half, the penalty specter blew over Jan Breydel again. Halloween, they also know that in Bruges… After a mistake by Sakamoto on Nusa, Phillip neatly stopped Jutgla's eleven meter. The third unused Club penalty in four calendar days. Boyata chose to put new tension in the derby. From the left he played the leather nicely in Hornby's barrel. The Scottish striker did not hesitate and gave Mignolet no chance: 2-1. KVO got hungry and looked for the Mignolet zone a little more oo. When Boyata fielded McGeehan in that box, the VAR ref called Staessens to the screen. Twice Boyata wouldn't believe it, but the mistake was crystal clear. Hornby at the lime point and Mignolet had to fish a second time in ten minutes.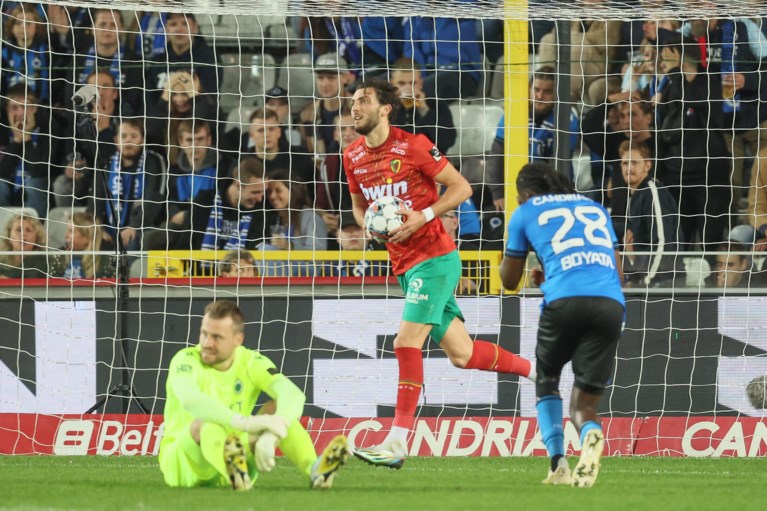 Class
No two penalties without three. Tanghe touched the ball with his hand and Nielsen wanted to take responsibility. Again Phillips saved a penalty but he couldn't catch the leather. Nielsen extended the rebound against the ropes. Nevertheless: a fourth penalty that was not used directly for blue and black in two games in a row. But there was peace again among the heavily sweating people of Bruges. No sweat, no glory: so respect for their slogan. The substitute Lang embellished the final figures via Katelaris' body. Blauw-Zwart has flushed the Porto hangover, but a course of penalty kicks would be appropriate.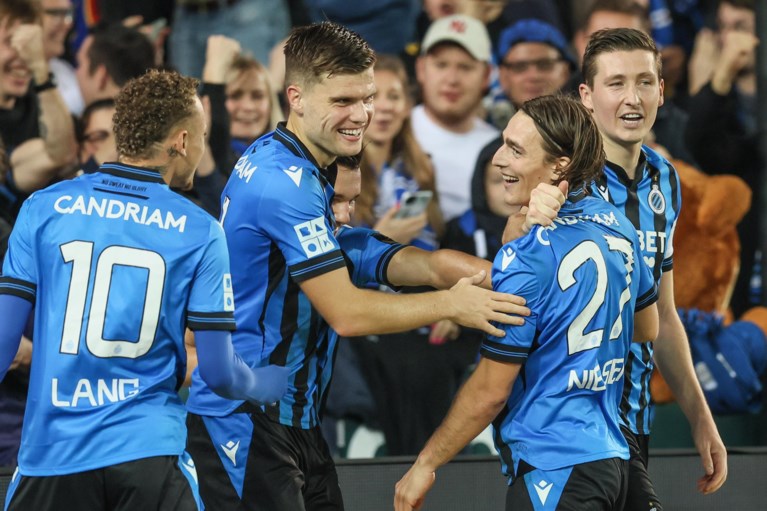 Club Brugge: Mignolet, Mechele, Boyata, Meijer, Buchanan (84′ Odoi), Onyedika, Nielsen (84′ Balanta), Vanaken (84′ Audoor), Sowah, Nusa (67′ Long), Jutgla (77′ Larin)
KV Ostend: Phillips, Katelaris, Tanghe, Capon, Wylin (46′ Albanese), Osifo (61′ Rocha), Boonen (77′ Bätzner), Sakamoto, McGeehan, Atanga (77′ D'Haese), Hornby
Goals: 34′ Vanaken (Sowah) 1-0, 39′ Jutgla 2-0, 57′ Hornby 3-2, 65′ Hornby (penalty kick) 2-2, 73′ Nielsen 3-2, 80′ Katelaris (own) 4-2
Yellow cards: 20′ Katelaris, 59′ Nielsen, 84′ Buchanan, 90'+2′ Albanese.
Red cards: /
Referee: Brent Staessens