KV Kortrijk and Cercle Brugge shared the points after a pleasant viewing. Boris Popovic gave the visitors the lead early on. Bilal Messaoudi still gave the Veekaa a point with a nice goal.
A flashing Cercle opened the race at a blistering pace. Via Hotic, it exerted pressure on a shaky Kortrijk defense in the very beginning. That early pressure resulted in a lead moments later. Lopes saw Popovic standing free in the distance and served him with an excellent cross. The Frenchman simply nodded the leather against the ropes, but it was not made very difficult for him. KV Kortrijk right-back Sych defended too lax, so that the goalscorer was able to head in the first green-black header goal this season.
After the opening goal, it seemed as if Cercle Brugge wanted to immediately decide the match and put it in a definitive fold. It pushed KVK back to its own half and played football freely and freely led by a good Hotic. However, the Veekaa did not give in so easily. The home team gathered two small chances purely on willpower. Lamkel Zé and Mbayo once stuck their noses in the window, but it couldn't scare goalkeeper Majecki. Until then, the Pole had had a quiet evening in the Guldenspoor Stadium.
That quiet evening for the Cercle goalkeeper seemed to change shortly after the break. Watanabe extended a free kick right into the hands of Majecki. With a little more luck, that ball fell into a corner out of the Pool's reach. Until then, the danger of KV Kortrijk. After the home team's chance, Cercle took control of the match again. Sych was again trumped in the air, just like with the goal. This time it was Ueda who headed, but there was no power behind his header. Popovic showed at the start of the match how it should be done.
From zero to hero
The match seemed to be heading for a narrow 0-1 victory in favor of Cercle. The green-blacks controlled the game, but out of nowhere Messaoudi managed to escape their attention. The Algerian turned freely and curled the ball cleanly into the bottom right corner. When he was replaced, the home fans whistled him out, at the goal they celebrated – of course – together with him. So you see how fast things can go in football. It was his second goal in Kortrijk's wages.
KVK got wings after the goal. The home fans rallied behind the team and saw goalscorer Messaoudi shoot again at Majecki's goal. He was brimming with confidence, but actually he had to look next to him and give up on Lamkel Zé. At the end of the game, the game waved back and forth, but no more goals were scored. No 15 out of 18 and fourth win in a row for Muslic.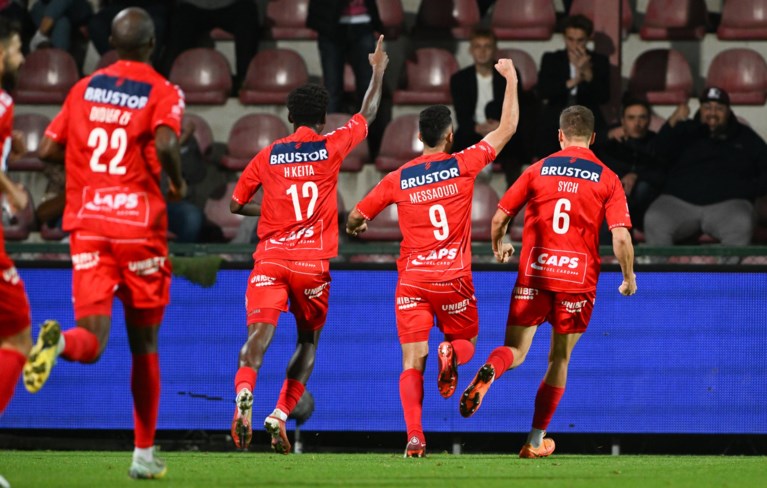 KV Kortrijk: Ilic; Sych, Radovanovic (Loncar 65′), Sunset, D'Haene, Watanabe, Vandendriessche (Bruno 46′), Keita; Mbayo (61′ Messaoudi), Avenatti, Lamkel
Bruges: Majecki; Popovic, Ravych, Daland; Somers, Lopes, Vanhoutte, Hotic, (77′ Kehrer) Deman; Ueda (63′ Gboho), Denkey
Goals: 9′ Popovic (Lopes) 0-1, 79′ Messaoudi (no assist)
Yellow cards: 30'Ravych (fout), 36' Dessoleil (fout), 44' Sych (fout), 60' Avenatti (protest), 60' Majecki (protest), 81' Loncar (fout)
Red cards: no
Referee: Lothar D'Hondt
Spectators: 5211