From heaven to hell, from 0-2 against ten men to another sour loss of points. Club Brugge completely threw away 75 minutes in the majority on Saturday evening. It thought it would soon have the sheep on dry land, but a brave Union fought back all the way. With a late equalizer from Nieuwkoop as a reward.
A mild Saturday evening, two teams playing football and a full Duden Park: what more do you need for a beautiful football evening? No red card after only fourteen minutes… when it is already 0-1. Because Club Brugge took a lightning start. Kick off, put together a nice attack from the left and immediately play Skov Olsen in the sixteen. He once cut to his left and shot Moris. We had barely played 31 seconds. Blue-black had started full of energy and enthusiasm and continued to attack. Just before fifteen minutes, Buchanan dropped his opponent Adingra with a nice hip movement. He was pulled down in the box, and the VAR hadn't missed it. Ref Van Damme immediately ruled out the Union defender and awarded Club a penalty. Strict, but Vanaken didn't mind: 0-2 after fifteen minutes, away game.
nerves
Or not? Club Brugge thought they were dominating, but dozed off. And at Union they didn't give up. We even got another game when Burgess authoritatively headed a corner into the corner on the half hour mark. The defender slid to his knees, but immediately bounced back up: Union smelled blood. Mignolet still had to conjure up a world save on a great chance for Lynen, although the linesman (rightly) flagged for offside. The nerves became a little more tense with blue-black: the national champion realized that it was not home yet.
The signal to take matters into their own hands again after the break: not winning with 75 minutes against one man less, Club could not explain that at all. Vanaken immediately warned with a deflecting shot. Jutgla also had two excellent opportunities, each time straight at Moris. The first squandered the Spaniard due to poor control, in the second the striker didn't decide quickly enough, allowing the Union goalie to outdo him. Club Brugge had a hard time killing the match completely, much to the frustration of Carl Hoefkens. And so Union kept dreaming of a stunt.
Gone gold case
Fifteen minutes before the end, Geraerts made two changes: Puertas and Nilsson joined in. Meanwhile, Lang and Yaremchuk had already filled in at Club, where the doomsday scenario became reality. In minute 80, Nieuwkoop headed a fine cross to the far corner at the far post, as a result of which the ten-man home team was still level with Club. Painful for blue-black, but you felt it coming. There was no longer a final offensive by Club: the disbelief after that equalizer was simply too great. The national champion forgets – with Antwerp-Genk tomorrow in mind – to do a golden thing. And this time it wasn't Europe.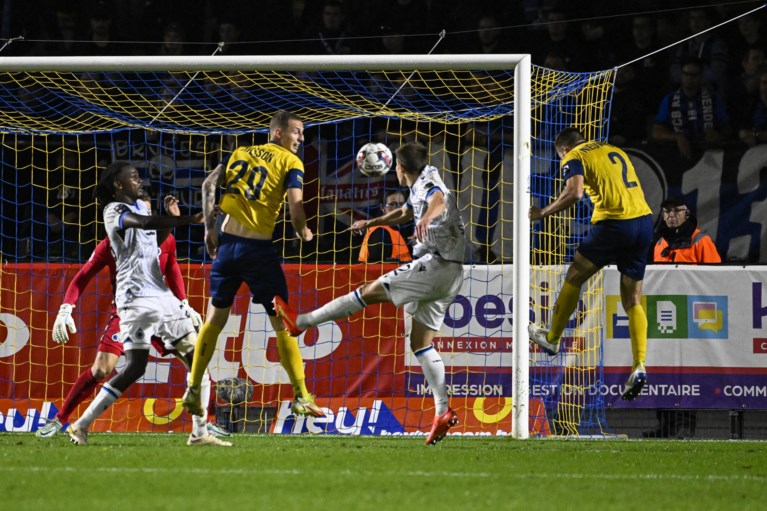 Union: Moris, Sykes (25′ Lapoussin), Burgess, Kandouss, Nieuwkoop, Lynen, Teuma, Lazare (74′ Puertas), Adingra, Boniface (74′ Nilsson), Vanzeir (Rodriguez)
Club Brugge: Mignolet, Odoi, Mechele, Boyata, Buchanan (81′ Sowah), Nielsen, Onyedika, Vanaken, Meijer (59′ Sobol), Skov Olsen (64′ Lang), Jutgla (64′ Yaremchuk)
Goals: 1′ Skov Olsen (0-1), 16′ Vanaken (penalty, 0-2), 32′ Burgess (1-2), 80′ Nieuwkoop (2-2)
Yellow cards: 16′ Burgess, 43′ Moris, 45′ Lazare, 45+1′ Vanaken, 56′ Meijer, 82′ Nieuwkoop
Red cards: 14′ Adingra
Referee: Kevin Van Damme