Cercle Brugge advances further and dives into the left column. Coach changes have no effect? Miron Muslic and Cercle prove the opposite with 12 out of 15. Thanks to two goals from the Japanese Ueda, Cercle settled the black beast Charleroi on Friday and immediately jumped over the Carolo's in the ranking to ninth place. It became 4-1.
Unrest in all ranks at Sporting Charleroi and also a lot of police in Bruges to extinguish possible fires. But the Carolo's started well on the field. Marcelin had again been favored over the young Ravych, but immediately misjudged a cross. Benbouali scored, but the party was canceled due to offside.
Cercle surprisingly ahead
With Boukamir (Charleroi) and Francis (Cercle), there were two debutants. The latter tried from afar, but the Ghanaian's shot flew over. Marcelin kept being late everywhere, his tackle came just in time. The visitors claimed a penalty, but Visser saw no problem with it. There was not much more to experience. The game was also stopped for a long time because Denkey needed care after an aerial duel. (Read more below the photo)
Charleroi came through well a few times, but the goal surprisingly fell on the other side. It was third time, lucky time for Ueda. Marcelin headed a cross back and the Japanese gave Patron no chance: 1-0. Cercle could use that boost after the bad news earlier in the day. There will be no new stadium and that creates many question marks.
Visitors miss penalty
So there is more peace and quiet in the tent from a sporting point of view and it is also not bad. Charleroi was awarded a penalty before the break, but Zorgane kicked too softly and too low and Majecki also chose the right angle. (Read more below the photo)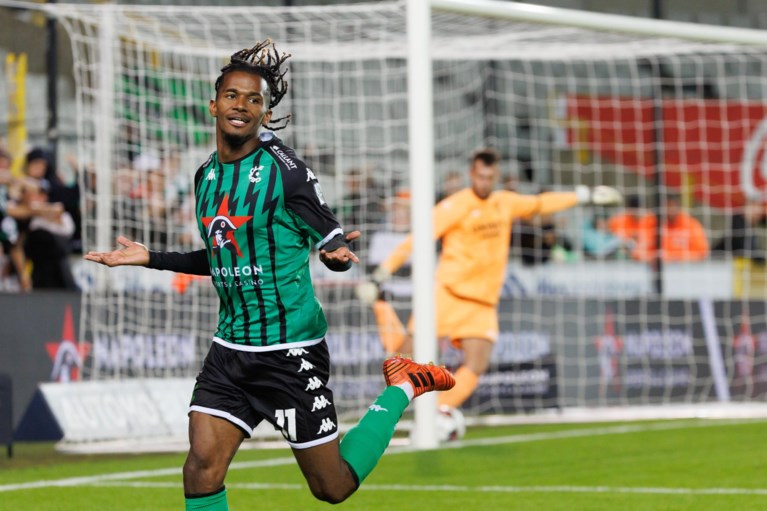 Charleroi looked for the equalizer after the break, but in vain. Ueda has now completely found his way and scored a second time. Still, it was exciting. The VAR gave Still and co a hand by intervening after Marcelin's hand game. Heymans hit the mark. But how hard Cercle scored in the first months, how easy it is now. Substitute Gboho made it 3 -1 in the rebound. Cercle continued to attack and with a goal from Kehrer, the black beast completely defeated Charleroi.