People are gradually getting used to it: Anderlecht have lost once again. Now even against the number last. Can Mazzu survive this?
If Anderlecht weren't sick yet, they certainly are after last night. A full evening in the pouring rain and lost again. Anderlecht anyway…
First to the beginning of the evening. It was a very complex first half for referee Nicolas Laforge, helped neither by the events nor by his own judgments. Silva made the 1-1 – beautiful deviation -, but Arnstad ran into the ball's path offside: no goal. But what turned out? Prior to that stage, Derijck had planted his studs on Silva's ankle. The video ref called Laforge to the screen, the man in the fluorescent yellow put the ball on the spot after 4 minutes and 52 seconds of deliberation and left the red card for Derijck in his pocket. Silva, one of the better players at Anderlecht, scored a second time. Still 1-1.
Jonathan Lardot was the VAR in Tubize, he worked overtime. When Debast made himself very wide compared to Fadera, Laforge immediately turned red, but Lardot thought that was exaggerated. Went to check again, after which Laforge ruled it was still a foul, but that foul didn't deserve a card – not even a yellow. At Essevee they were furious: Debast had already received a yellow card, so he could have been ruled out just like that.
uninspired
Zulte Waregem had started the match full of enthusiasm, unlike the visitors from Brussels. Then the Anderlecht fans who had traveled with them were a lot more eager. "In five months you have wasted three years", they had a clear message for the RSCA board – whether that banner made sense, you can judge for yourself. The fact is that Anderlecht had come out of the dressing room like a bunch of tame lambs. Miroshi was given plenty of space and time on the left to send a cross to sixteen, where Vossen could have performed three more flips – the defenders were that far away. You shouldn't do that with a striker like Vossen: 1-0.
Even without playing well, Zulte Waregem still had some moments to reach 2-0. It was unlucky: Vigen and Offor hit the target box. On the other side, Vertonghen brushed wide.
Anderlecht were uninspired for a long time. As the match progressed, the Purple & White came out better. The equalizer was not undeserved – whether it was really deserved, you can also discuss that, but hey. Felice Mazzu didn't think it was good enough, in any case, and he was right in that: he brought two fresh forces with Amuzu and Verschaeren. Yari immediately ran and provided the assist for Diawara's handsome 1-2.
Silva could have completely decided just past the hour: face to face with Bostyn, he left the 1-3. Conditions were already difficult then. It was pouring in Waregem as we have not known for a long time – the Gaverbeek reportedly just didn't overflow. That made good football impossible (although we rarely saw a nice combination before, to be honest). It was sliding, fighting, diving, swimming and often drowning.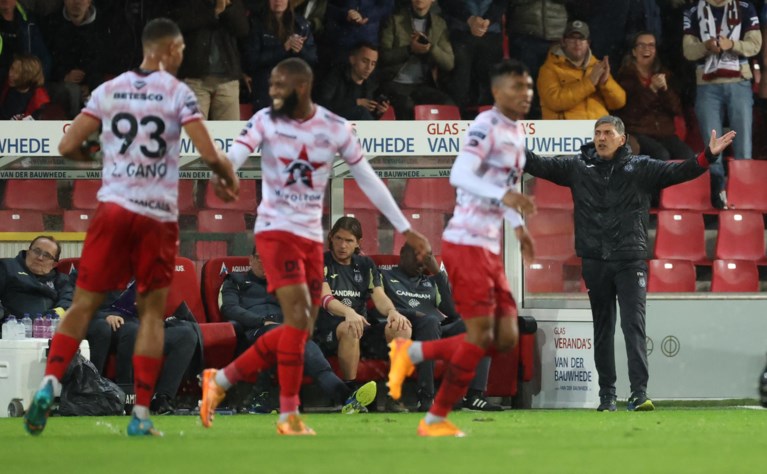 Laforge was also drowning, but luckily the video ref was there to assist him for a third time. If it happens that often, then you didn't have a good game after all. What Laforge had not seen was that Arnstad wanted to pry from Tambedou with his elbows, the Norwegian was rightly punished with red. Zulte Waregem still had about twenty minutes to find a point.
Powerplay
It had to be done on effort and power play, not on quality, because it was impossible to combine on the soggy turf. Static phases thus became even more important. And effective: Fadera nodded a corner past Van Crombrugge (2-2). It was again remarkable how only the Waregemnaar stood in the large rectangle. Either the RSCA'ers hadn't paid close attention during the tactical meeting, or it was poorly explained.
We were given ten minutes of extra time. Anderlecht were still looking for the win, but it was Essevee that went for it. Gano with the 3-2. punishment.
Anderlecht have only won once in their last six matches. The crisis sounds a little louder again. You can't say that the record champion was dramatic in West Flanders, but it wasn't enough against the red lantern. How long will Mazzu get the bosses' support? And just now a move to Sclessin is on the program. To stay on the water theme: if Anderlecht went under there…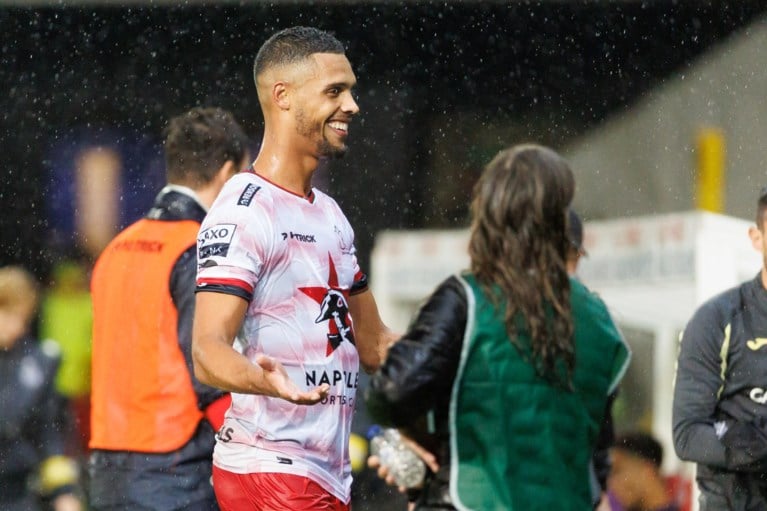 SV Zulte Waregem: Bostyn, Derijck (55′ Sormo), Fadera (46′ Ndour), Vigen (68′ Drambaiev), Vossen, Ciranni, Tambedou (73′ Sissako), Rommens, Miroshi, Offor (68′ Gano), Willen
RSC Anderlecht: Van Crombrugge, Hoedt, N'diaye (46′ Amuzu), Vertonghen, Diawara, Stroeykens (73′ Ashimeru), Debast, Arnstad, Murillo, Stassin (46′ Verschaeren), Silva (86′ Esposito)
Goals: 5′ Vossen, 41′ Silva, 58′ Diawara, 81′ Sissako, 90′ Gano
Yellow cards: 15′ Offor, 19′ Ciranni, 38′ Derijck, 45′ Debast, 64′ Vossen, 72′ Tambedou, 90′ Ndour, 90′ Sissako, 90′ Gano
Red cards: 72′ Arnstad
Referee: Nicolas Laforge