The leading position did not burden KRC Genk with stress, on the contrary it gave the Limburgers against Westerlo a strong boost. Under the impulse of an unstoppable Paintsil, the leader tapped the Kempenaars redshanks: 6-1. That is called being ready for Sunday's topper at the Bosuil.
Joseph Paintsil received his first starting spot from Wouter Vrancken, after he had been out of action at Union a month ago with a muscle tear. It was as if the Ghanaian had been preparing for four weeks to give the Genk fans a party night against Westerlo.
After fifteen minutes on roses
Paintsil opened his demonstration after six minutes with the early opening goal. Thanks to a sprint from Trésor, who just kept a long ball in and the perfect marker over the defense of captain Heynen. Paintsil grabbed the ball handily and rounded the cape Bolat flawlessly with the left: 1-0. (Read more below the photo)
An uninhibited Westerlo had clearly gained confidence from a 13 out of 15 and threatened early via Dierckx and Chadli. The strikers Foster, who put Cuesta in the wind a few times, and Nene received the generous support of walking people, but that urge to attack also made the courageous PhD student vulnerable. Genk forced a corner in excess, which put the leader on roses after fifteen minutes. Onuachu extended Trésor's corner at the first post, once again it was opportunist Munoz who couldn't miss at the second post: 2-0.
Young ref loves penalties
We had left for a spectacle, to which a visibly nervous referee Arthur Denil also willingly contributed. Have someone make it clear to the person who has pushed this 25-year-old ref to a level he's not ready for that he's not doing anyone any favors. Not Belgian football, even less the young man himself.
After all, Denil didn't need much to put the ball on the spot for the fifth and sixth time in his fifth first division match this season. After penalizing Preciado's light tap on Foster with a penalty, he made up for it on the other side when, yes, Paintsil threw himself into Seigers. Both Dierickx (2-1) and Onuachu (4-1) converted the eleven meter, for Onuachu it was already his second goal of the evening. Just before that he had already taken care of the 3-1 on the advice of, of course, Paintsil.
Seven minutes to think about it
The VAR, partly due to the possible offside of Paintsil, needed no less than seven minutes to study both penalty kicks. To great hilarity in the stands, these were added to the first half. (Read more below the photo)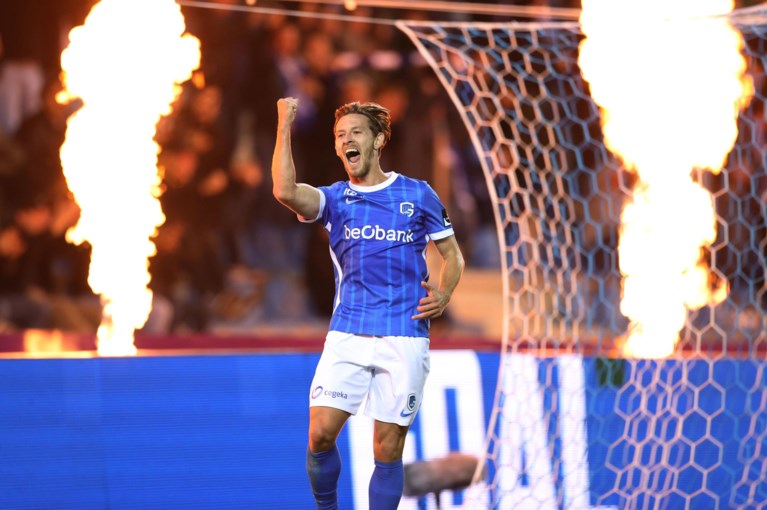 A freewheeling KRC Genk, which knocked out the visitors, took the opportunity to score a fifth time. For the fourth time, an unstoppable Paintsil had a foot in a goal, for the second time it was Munoz, who headed in the wonderful cross: 5-1.
Mexcican wave
The unnecessary second half therefore had zero tension, before the hour Nene also took a stupid red for an unnecessarily dangerous tackle on Munoz. The home fans did not let it get to their heart and started a Mexican wave for the first time in a long time, in which even the fair visiting supporters section took part.
For example, football was a party, coach Vrancken gave Onuachu, Munoz and El Khannouss half an hour of rest and Carstensen his debut. Paintsil and captain Heynen also received a applause replacement, after Trésor Hrosovsky had completed the half dozen (6-1).
For the rest, it was time to save energy for Sunday afternoon's topper. Then Racing heads to the Bosuil as leader and full of confidence.
KRC GENK: Vandevoordt – Munoz, Cuesta, McKenzie, Preciado – Hrosovsky, Heynen, El Khannouss – Paintsil, Onuachu, Trésor.
WESTERLO: Bolat – Reynolds, Seigers, Tagir, De Cuyper – Dierckx, Fixelles, Madsen, Chadli – Nene, Foster.
REPLACEMENTS: 63′ Chadli, Foster, Dierckx and Madsen by Vetokele, Vaesen, Akbunar and Mineiro, 66′ Munoz, El Khannouss and Onuachu by Carstensen, Castro and Samatta, 80′ Heynen and Paintsil by Galarza and Nemeth.
OBJECTIVES: 7′ Paintsil 1-0, 15′ Munoz 2-0, 21′ Dierckx 2-1, 32′ Onuachu 3-1, 40′ Onuachu 4-1, 45+5′ Munoz 5-1, 79′ Hrosovsky 6-1 .
PENALTY KICKS: 21′ Dierckx (converted), 40′ Onuachu (converted).
YELLOW CARDS: 72′ Cuesta (hold lightly).
RED CARDS: 58′ Nene (dangerous tackle).
spectators: 15.189.
REFEREE: Denil.