Bernd Storck will need more than a miracle this time to avoid relegation with this Eupen. Cercle Brugge dominated especially before half time against a weak Eupen and deserved to win. Cercle leaves Seraing, Kortrijk, Ostend and Mechelen behind in one fell swoop and climbs from a relegation place to place twelve for the time being. Eupen is now only penultimate and feels the hot breath of Zulte Waregem in the neck.
Bernd Storck remains a guru and miracle man for all of Cercle since he held the Association in 2020 and just before the outbreak of corona in the Jupiler Pro League at the last minute. But since then it hasn't exactly gone crescendo with the German, who was anything but successful at both the Slovenian DAC and last season at Genk. And he will also need his wand in Eupen so that he does not have to leave the back door with jeering laughter.
After the heavy home defeat against Ghent, Storck intervened in several places. He even put Smail Prevljak, who is always good for a goal, on the bench. Very strange that Lennart Moser was allowed to stand. Storck brought his young compatriot to Cercle in January 2020 and no one understood why even then. Moser piled up the misses, nevertheless managed to avoid relegation. Yet Storck also brought Moser to Eupen, where he radiates anything but certainty and even regularly makes mistakes. It was no different against his former team Cercle.
Almost hit in minute 1
Storck made no bones about it before the match. In front of the cameras he stated: "Losing today is forbidden. Eupen got away well after 1 minute. Moser clumsily kicked a back pass and Denkey went for goal alone, but aimed just wide. Cercle coach Miron Muslic had chosen the team that started the second half at Union and almost took a point with great intensity. Torres disappeared from the selection and Ueda was allowed to start. The Japanese had a golden opportunity just after fifteen minutes, but hit the post. (Read more below the photo)
Majecki should have intervened on the other side. The Pole is also a fiercely contested goalkeeper and not ready for his first mistake, but he cleverly stopped Jeggo's ball on a corner. The only feat of arms in Eupen and after a good 25 minutes Cercle was rewarded for work. Moser stopped Popovic's header on a corner from Hotic, but Denkey cashed in on the rebound. The second goal soon followed.
Ueda seems to be finding his way better and better and after a nice move from him, Lopes extended to Somers, who doubled Cercle's lead. Storck stood by and watched. The East Cantoners were killed before half-time. At first Somers aimed in front but on a pass from Deman Ueda was able to put Cercle in a seat. Or not? Just before the break Marcelin thought it necessary to tackle again in the box. It resulted in a deserved penalty kick for Eupen, converted by Stef Peeters – just like Storck, Moser and Christie-Davies, someone with a Cercle past.
Hotic misses penalty, Denkey strikes
In mid-September Cercle was leading 2-0 against KV Oostende, but it still became 2-2. It cost Dominik Thalhammer his head. What was Eupen still capable of? Storck brought in Prevljak and Paeshuyse, but it was again Cercle that dominated. After a good play Ueda's cross went wide and Moser blocked Hotic's shot. Eupen continued to struggle to get out against the pressing Cercle. (Read more below the photo)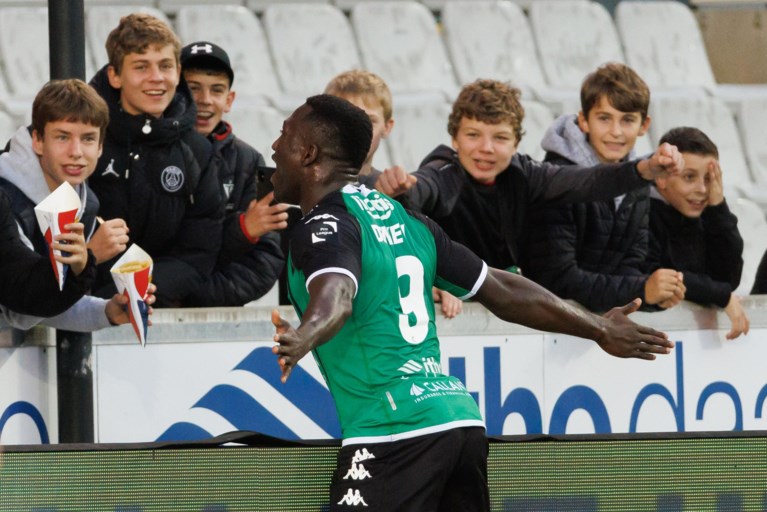 The visitors could never create the illusion that they could unbalance Cercle. What's more, the VAR seemed to make things even worse for Eupen. Another foul was seen on Lopes, but Hotic aimed the penalty wide. Or did he want to make the pill less bitter for Storck, the trainer who brought him to Belgium three years ago? Wasted effort. Cercle went right through it and still humiliated Eupen. Two wonderful goals from Kévin Denkey made Storck and Eupen sink through the ground in shame.
Cercle Brugge 5 – KAS Eupen 1
Bruges: Majecki, Marcelin, Popovic, Daland, Somers (73′ Ravych), Lopes (73′ Van der Bruggen), Vanhoutte (62′ Abu), Hotic, Ueda (73′ Gboho), Deman (80′ Velkovsky), Denkey
Eupen: Moser, Van Genechten (78′ Magnee), Lambert, Jeggo, Alloh (46′ Paeshuyse), Davidson, Peeters, Wakaso, Christie-Davis (46′ Prevljak), Charles-Cook (73'N'Dri) , Nuhu (73 'bitumazala)
Goals: 25′ Denkey (no assist)1-0, 30′ Somers (Lopes) 2-0, 39′ Ueda (Deman)3-0, 44′ Peeters (penalty kick) 3-1, 77′ Denkey (Hotic) 4-1 , 86′ Denkey (no assist) 5-1
Yellow cards: 49′ Jeggo (fault), 76′ Ravych (fault)
Red cards: no
Referee: Eric Lambrechts