They did it! On the Spanish national holiday, Club Brugge fought their way to a point in Madrid against Atlético and the qualification. For the first time in history, it is in the last sixteen of the Champions League. Thanks to Mignolet or in this case 'San Simon'. Incredible…
In the imposing, packed and atmospheric Estadio Metropolitano, Club Brugge went in search of a fourth stunt in a row. A point was enough, but as Carl Hoefkens had announced, his team also tried to dominate at Atlético. The coach opted for a very attacking team: a 3-5-2 with Buchanan and Skov Olsen on the flanks, as Alfred Schreuder (albeit in the Jupiler Pro League) also played. Meijer stayed on the couch.
The first danger also came from Club, with Skov Olsen bringing Sowah into position. He could lash out with his good left, but aimed wide. After ten minutes Skov Olsen again, this time serving Jutgla. Just like last week, the Spaniard wanted to score against his compatriots, but his sights were not yet sharp either. Two fine shooting opportunities, the necks twisted by the strikers.
Club furious
Not a disaster in itself, because the visitors kept things closed in the opening quarter. But then Atlético – strikingly enough without Carrasco and Witsel – came under steam. After a third moment of nonchalance from Onyedika, Griezmann scored on goal. Mignolet saved the furniture for the first time. A little later, he saw his defense completely out of context with a one-two between Griezmann and Correa. The latter tried to knock Mignolet across the corner, but luckily for Club the ball went just wide. All hands on deck now. The goal finally fell midway through the first half, when Saul completed a fine attack, but this time the linesman saved. Offside. How long did Club last? Cross Saul, header Griezmann, new parade Mignolet. There was no dominance. It was sink or swim.
Just before half time a last hot position, but actually on the other side. After a quick counter from Skov Olsen, Buchanan was tagged, it seemed, and Danny Makkelie pointed to the spot. Vanaken had already held the ball, ready to take the penalty and redeem his team, but that was not counted in the VAR. Makkelie was called to his screen and reversed his decision. Buchanan himself had tapped Molina. At blue-black they were furious. "Mafia, mafia!", sounded in the branch.
Offside again
It was clear that it would be another 45 tough minutes. Atlético immediately put pressure and after Griezmann fired on Mignolet, Correa pushed in the rebound. This time too, however, there was offside and the goal did not count. Immediately afterwards, Mignolet had to get back to work to prevent Griezmann from scoring. The Frenchman was omnipresent and a scourge for Mechele and Sylla, who were happy with the new brilliant performance of their keeper.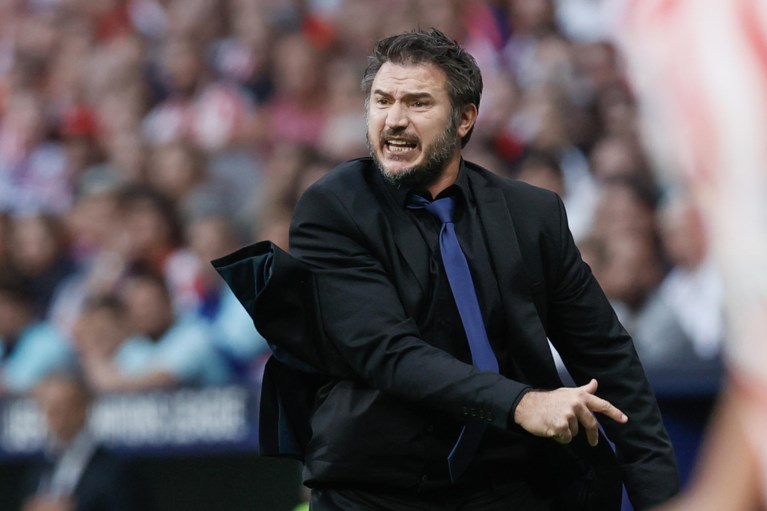 Hoefkens quickly intervened. He brought in Meijer for Skov Olsen and opted for a 4-3-3 with Buchanan on the right. It paid off almost immediately, as the Canadian was cleared on his wing, but he hesitated just too long to kick. Simeone's answer: bring in three top players. DePaul, Carrasco and Morata. Such a luxury. Although it must be said that they were anything but sharp. We didn't have to write anything down for fifteen minutes. Club grew more and more courageous. Especially when Buchanan got the ball. Then he kept his man talking for a while and gained precious seconds. The delirium was getting closer and closer. A strong Odoi once pulled up and shot wide.
Just a little longer with ten
The last trump card of Atlético was called Axel Witsel. Was a Belgian going to ruin the Belgian party? He certainly played a role, because after a foul on the Red Devil, Sowah received his second yellow card for kicking the ball away. Club had to hold out with ten for just under ten minutes, but we'll tell you right away: it did just that.
Thanks to who else but 'San Simon'. Whether he knew it, I have no idea, but with his jaw he knocked Morata's attempt out of his target. He also stood out in extra time. Incredible.