Pouring rain and a hellish pace, the players turned it into a very intense game of football, but it was all too often not nice what the players in Genk brought to the mat. The match seemed to be heading for a fair draw, but a late header by Heynen gave the home team another victory. Ghent is left behind with a meager three out of nine.
Paintsil was missing from Genk and Vrancken opted for Preciado on the right wing, while AA Gent had to make do without the suspended Okumu, but the Buffalos did recover Samoise. In addition, Depoitre was preferred over Fofana and Roef continued to be preferred over his French competitor Nardi, who did a great job against Irish Shamrock Rovers last Thursday.
The home fans were clearly looking forward to it and when Leandro Trossard also kicked off, everyone got ready for a pleasant football afternoon. Trésor was interested in that, but the best opportunity in the opening phase was for Samoise who, on a pass from Depoitre, appeared face to face with Vandevoordt but lingered too long and Arteaga was able to intervene in extremis.
It immediately set the tone for a very captivating first quarter of an hour that was completed at a blistering pace. That caused a lot of struggle and engagement, but the players hardly got the time to breathe. At the back of Genk, Vandevoordt also got away well when he played the ball right into Samoise's feet, but once again the Gentenaar was unable to take advantage.
As the first half progressed, the home team increasingly took matters into their own hands and the Buffalos found it increasingly difficult to appear near the Limburg goal area. However, there were opportunities, but all too often Gent suffered unnecessary loss of ball in the build-up. On the other side, Torunarigha had to help his goalkeeper when Onuachu was sent off by the industrious Preciado.
Defensively, Ghent suddenly had to adjust completely when Torunarigha – who had already been replaced at half-time last Thursday – dropped out with a hamstring injury. Godeau took his place. Then another attack from Ghent: Depoitre extended a high ball in the course of Cuypers, but the Ghent top scorer decided high over Vandevoordt's cage. The last opportunity was ultimately for Preciado, but an attentive Roef whipped his header out of the goal.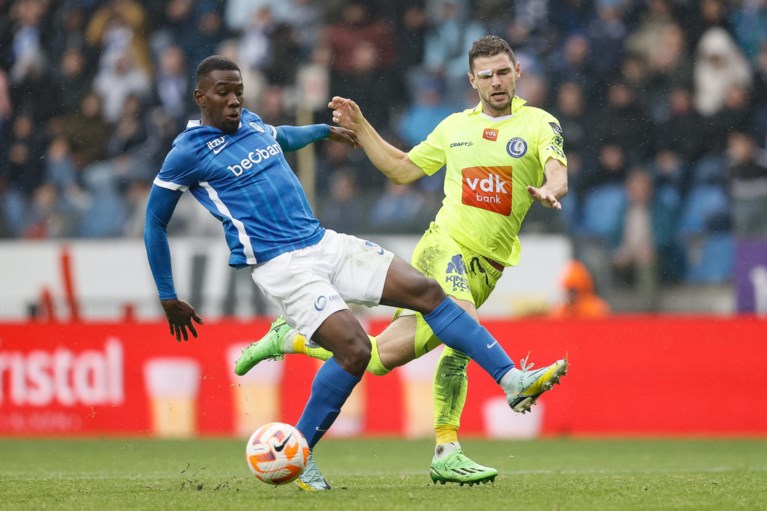 Smoke and fire galore, but hardly any target hazard
Vrancken made a substitution at half time and replaced the slightly beaten Preciado with Samatta. The second half started with a false start as the local fans caused the necessary swell behind Vandevoordt's goal with Bengali fire and smoke bombs. Ref Lambrechts put the game on hold for a while, but a few minutes later the 22 players were able to get back to work.
Meanwhile, Genk continued to play football in the back: Cuesta unnecessarily handed in to Cuypers, the Ghent striker seemed to be rushing towards Vandevoordt, but the Colombian corrected his own mistake in the end and thus prevented a Ghent lead. Offensively, Genk proved a bit more reliable: Tresor slipped past Hong and Samoise and served El Khannous, but Roef tapped into a corner.
In the battle for Play-off 1, both teams needed a victory to be able to follow on the track but at a good distance from leader Antwerp. Tresor gave it a try with a free kick, Roef tapped the ball from under the bar. The spectators already seemed to reconcile with a draw, but when Tresor painted the ball on Heynen's head, it was a hit: 1-0 and Genk just kept the three points at home.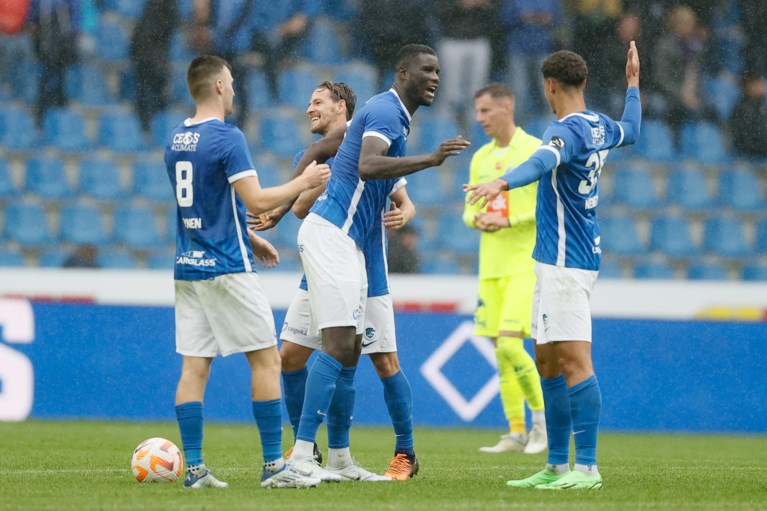 Genk setup: Vandevoordt; Munoz, Cuesta, McKenzie, Arteaga; Heynen, Hrosovsky; Preciado (46′ Samatta), El Khannouss (67′ Castro), Tresor; Onuachu (80′ Nemeth)
Line-up AA Ghent: Roef; Hanche-Olsen, NGadeu, Torunarigha (37′ Godeau); Samoise, Kums, Odjidja, Castro-Montes; Hong (71′ Hjulsager); Depoitre, Cuypers
Goals: 90′ Heynen (Tresor) 1-0
Yellow cards: 18′ Ngadeu, 44′ Muñoz, 74′ Godeau, 86′ Mc Kenzie
Red cards: –
Referee: Eric Lambrechts