Even after nine match days, Antwerp remains in the Jupiler Pro League without losing points. The Great Old was 2-1 too strong for Seraing for its own audience thanks to goals from Toby Alderweireld and Vincent Janssen. Antwerp dives into the international break with a 27 out of 27.
The goal for 2-0 was typical of the momentum in which Antwerp finds itself: it was a mix of class and windfall. Alderweireld's long ball on Janssen's tie was tailor-made, the handsome striker's chested striker landed at the feet of the cleverly infiltrated Gerkens – that was all well done. But then, the finish: Gerkens' volley – no line – accidentally deviated from Janssen's heel, leaving Dietsch without a chance. When things go well, those kinds of things come together.
The game seemed already over, and we weren't even halfway through the first half. In the opening minutes, Alderweireld had opened the scoring with his second competition goal: on a corner kick, Mbow put very little in the way of the Red Devil. But more than the 2-0, the preponderance was an argument to think that Antwerp could never lose the three points again. Whenever Seraing tried to mount an attack, the home side collectively put pressure on them, allowing them to quickly recover the ball each time, only to play too fast themselves for the Liège players – they simply couldn't keep up with the pace. Bernier's connecting goal on the stroke of half-time (2-1) came out of the blue, but even then no one seemed to doubt a good outcome: the difference in quality was that big.
In fact, it should have been 3-0 instead of 2-1. A wonderful free kick by Ekkelenkamp had deserved better than the bottom of the bar. We mention the attempt not just because of its beauty, but also to indicate once again that Ekkelenkamp is really a bull's eye for this Antwerp. It is not for nothing that Antwerp did everything in its power to trump Club in this file, it is not for nothing that Radja Nainggolan is sitting on the bench for the benefit of the Dutchman.
The first fifteen minutes after the break – despite opportunities for Stengs and Ekkelenkamp – was rather difficult for the leader. Seraing actually got the impression that there might be something to pick up after all, which of course was not the case at all – the relegation candidate is too weak for that. But good, Mark van Bommel preferred not to take any risks and brought in fresh blood: Radja, De Laet and Fischer. The wealth in Deurne Noord is enormous, and then men like Balikwisha, Engels and Frey have to return from injuries. Phew.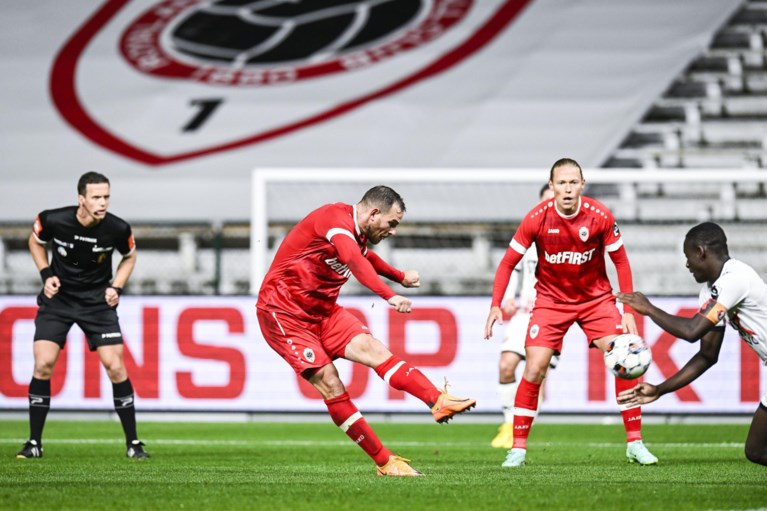 Precisely because of so much talent, the second half as a whole was disappointing. Antwerp should never give a particularly mediocre opponent like Seraing the illusion that a draw is even possible. It should have finished faster.
Anyway, in the end only the numbers on the board count – that's how businesslike Van Bommel is. And those eyes are fantastic: won again, for the ninth time in a row already. It is gradually becoming boring and predictable. Who will do this Antwerp, if at cruising speed, what next? It's looking at Club Brugge and Racing Genk…