Antwerp will board the plane tomorrow with a good starting position. It fell behind against Basaksehir, but Almeida took care of the 1-1 final score. The Great Old has everything in its own hands to reach the groups of the Conference League.
It might as well have been a heavyweight boxing match. With Michael Frey in one corner, Stefano Okaka in the other. Guys from whom we'd rather not take a hit, or we might not be able to tell it again – with our chest as wide as a stylo. But bon, in football it is not about the number of kilos that are lifted in the fitness, but about the goals. And in that area alone, the first half was a soft spot: zero goals.
There had been some chances, without saying that it was a spectacular match before the break. Ekkelenkamp blasted past from close range and saw a promising volley land on a Turkish back. A pin from Frey, who also had a hard time with the short man cover, then stranded on Babacan's fists. On the other side, Okaka – still gesticulating as hard as in his time at Anderlecht – decided in the side net and a fine deviation went just wide.
A zero-zero, Antwerp didn't seem to mind – then the Great Old could finish it next week in front of a swirling Tawny Owl. The visitors themselves also had control. It was only when Mounir Chouiar touched the ball that it was all hands on deck, although that had not only to do with his sharp dribbling, but also (and perhaps especially) with the quality of his direct opponent. Dinis Almeida will never be a Toby Alderweireld.
We had only just typed the sentence above, or it was already that: Chouiar simply cut Almeida out and then curled into the far corner: 1-0. And to say that Radja's inspiration – beautiful shot – deserved better just before.
Antwerp now suddenly had to start chasing so as not to start the return trail behind. It didn't help that he didn't have a striker on the bench – Vincent Janssen was suspended after a stupid yellow card against Lillestrom. However, Frey could have gone to the side: he worked, but was invisible and unhappy with the ball. It's only August 19th, but if Marc Overmars still manages to get a nine somewhere, we don't think that's a superfluous luxury. The wash is thin in the front.
In Turkey that was actually the case tout court: without Fischer, Valencia and Balikwisha, the exchange options were limited. It was striking that Miyoshi only got minutes late: the Japanese can always force something. Rather, Mark van Bommel chose Bataille, Verstraete and Scott as the first substitutes. The West Flemish in particular played football without complexes (and rhythm, given their limited playing time this season), but the trio did not create a different game image.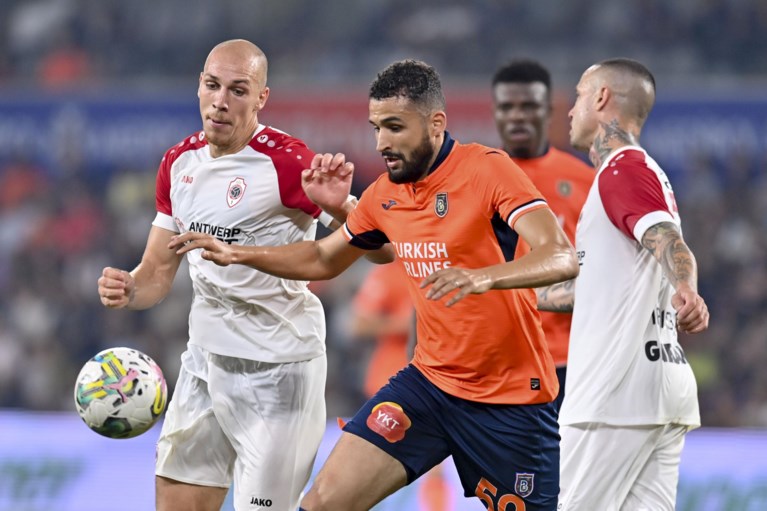 Well, you couldn't blame Antwerp for not blindly looking for the equalizer. A gap of one goal can still be made up, it should not be two. Soon after that happened: Butez had to unpack with a great parade when battering ram Okaka appeared in front of him. You gradually no longer have enough fingers on two hands to keep up with the Frenchman's impressive saves.
Just when no one expected it, Antwerp still managed to make it 1-1, after which it suddenly became louder in the chilly Fatih Terim stadium – the Belgians who had traveled along were celebrating. Vines dropped the ball towards the second zone, where Almeida of all places with a buffalo punch gave Babacan no chance. In the grandstand Paul Gheysens, flanked by his wife Ria, heaved a sigh of relief: no first loss, but a good starting position to advance to the groups. This Basaksehir, a cunning plow, can be caught.
Qualifying Antwerp would also be a boon for football – and we say that without a hint of patriotism. In Istanbul we were able to determine for ourselves that Basaksehir is a ghost team: without spectators or atmosphere. Rather a swirling Deurne-North…