Barely four days after his signature at AA Gent, South Korean Hong guided his new club past KV Oostende (1-3) with a magnificent goal. With his guts and energy he smothered the enthusiasm of the coastal crew. The Buffalos seem to have a taste richer. For AA Gent it is the second win in a row. With eight out of twelve, they are currently second, one point behind leader Antwerp.
What a debut, what a goal! However, it seemed to be an attack that was drawn out too long. Samoise, to Hjulsager, to the furthest post at Castro-Montes. To which he gave a 'cross' that ended up behind Hong. Lost opportunity? Not for the South Korean debutant, acquired for 1.5 million from the Austrian LASK. Hong jumped and shook an unparalleled (half) retro from his spry body: 1-2. On the bench of AA Gent they could not believe their eyes. The Buffalos have a new discovery. And we make that provisional conclusion not so much on the basis of that goal, far from it. Pure in his passing, always with the intention of wanting to play forward, strong in putting pressure in loss of possession and not even too ashamed to gesticulate his teammates to lead. When Gent had to fear another loss of points, it was he who even stirred things up. Talk about guts.
His goal after half an hour didn't just literally fall out of the sky. The Buffalos didn't start very sharply – with Hanche-Olsen, who got his first starting place of the season, in addition to Hong. A counterpoint, via Hong, who just didn't get Hjulsager to Cuypers: that was it for a long time. The young violence of KV Oostende showed itself much more eager, much more sharp. On the switch, with their fast boys, they hurt Gent, also because Torunarigha was defending miserably before the break. It started with a cross from D'Haese that went wide. When Roef pushed a cross into Bätzner's feet, the young German was too surprised to put the ball in the empty goal. A blind man saw that AA Gent would not get through the opening quarter unscathed. Literally, not for the first time this season, a Ghent shirt suddenly hung in tatters. Marreh was the victim. And figuratively. When Torunarigha didn't get rid of it and Atanga didn't cover well, the Ghanaian (edge ​​offside) passed Roef for his third of the season: 1-0. As unyielding as the Ghent defense looked after the New Year, it shows so many cracks for the time being. Four league games, five goals against.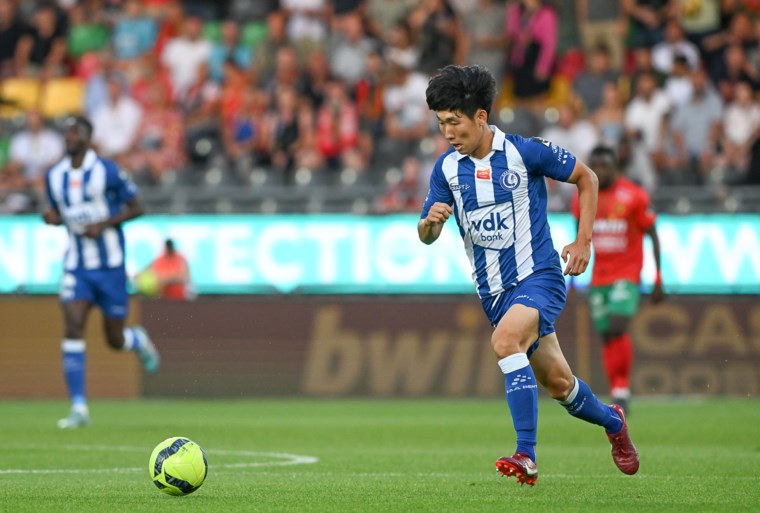 The only question was whether the Ostend enthusiasm was sufficiently strong against the Ghent métier? No. Qualitatively, the Kustboys had to bow their heads and that will happen to them more often this season. After the sharp start they lost their grip and stayed away from it . On a good counter-punch along the right side of Samoise, Kums gave Cuypers his second of the season: 1-1. Deadly efficient from Ghent. A few seconds later, that wondrous moment of Hongi came – as the supporters affectionately sang to him. It didn't matter if Samoise had made it 1-3, but Hubert kept KVO in the game for a while. Ostend needed an equalizer quickly, but Atanga aimed wide after Torunarigha's again thoughtless covering. Rocha tested Roef's fists from afar. Ostend collapsed with the lack of the equalizer.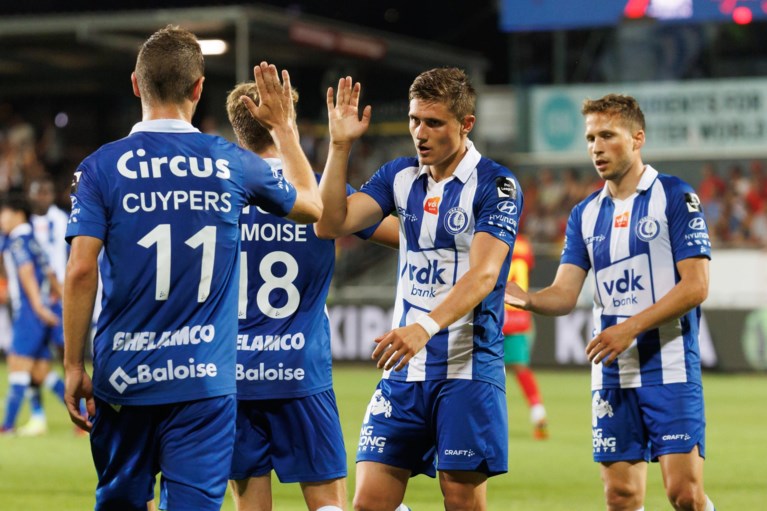 On the hour, Hjulsager passed the verdict for his ex-club, when Cuypers returned nicely on a sharp switch: 1-3. With a special mention for Cuypers, not always the most refined in his actions, but a type who proved to be of gold value with his relentless work.
Vanderhaeghe made change after change, but it didn't help the seawall. The reappearing Odjidja even hit the bar, Depoitre also collected his first minutes of the season. In the end Cuypers was kept from the 1-4 by goalkeeper Hubert. But the man who already fought his way into the hearts of AA Gent was the empty Hongi after seventy minutes, as they affectionately sang to him. King Hong, for the friends.
–
Line-up KV Oostende: Hubert; Urhoghide, Tank, Medley (46′ Catechism); D'Haese (70′ Capon), Amade, Roche (70′ Gueye), Ndicka (63′ Musayev); Atanga (46′ Wylin), Ambrose, Batzner
Line-up AA Ghent: Roef; Hanche-Olsen, Ngadeu, Torunarigha; Samoise, Marreh (46′ Odjidja), Kums, Castro-Montes; Hong (64′ Nurio), Hjulsager (80′ Depoitre); Cuypers (90′ Fofana)
Goals: 13′ Atanga 1-0, 24′ Cuypers 1-1, 29′ Hong 1-2, 60′ Hjulsager 1-3
Yellow cards: Marreh, Urhoghide, Rocha, Gueye
Red cards:
Referee: Jonathan Lardot