Club Brugge was again unable to beat a small team. After Eupen (2-1) Zulte Waregem Club now scooped up points. Carl Hoefkens is not having a nice honeymoon.
"Mbaye has a thing for stunting on Jan Breydel", wife Sandrine Leye whispered to us before kick-off. "So who knows…" She referred, among other things, to Leye's hat-trick at Club in 2013. Times have changed: then Zulte Waregem dreamed of the title, now it does not want to go down, but it is to Leye's credit that he even in that context wants to see similar football as nine years ago: with a neat structure, recognizable offensive patterns and attacking wing defenders. Nicolas Rommens can charm in midfield.
Twice Mignolet
Essevee's best player, however, wore a blue-black shirt and goes by the name Owen Otasowie. Zulte Waregem came up dangerously in the first half on three occasions, three times Otasowie's fumbling was the basis. Fortunately for Club, Simon Mignolet, as in previous games, was in good shape, otherwise Blue-Black would have been behind anyway. His two saves on the attempts of Jean-Luc Dompé, who continues to dream of stepping up, were phenomenal.
These days Mignolet is in the interest of foreign (top) clubs such as Napoli. It is said around the player that the goalkeeper must first decide for himself whether at 34 he still feels like a G5 competition – if not, then there is no point in sitting around the table completely. Well, it is to be hoped for Club and the Belgian league that Mignolet is not tired of the Belgian coast. It would be a shame for club, teammates and fans to lose a player like that. Although the competition may think otherwise. Beat him, huh.
Before the break, Club was not the machine it was at times last season, but it did create enough dangerous phases. Ferran Jutgla should have always scored that way. Sammy Bossut had turned out well at the first Jutgla opportunity, resulting in a painful collision. Jutgla should have done better at the second opportunity: Casper Nielsen – at Club a lot higher on the field than at Union – put the striker alone in front of the goal, after which he… missed his control. A long shot then stranded on Bossut's fists. 0-0 at the break.
However, that score did not stay on the scoreboard for long. The second half had barely started when Club scored a great goal. On the edge of the sixteen, Hans Vanaken, Kamal Sowah and Andreas Skov Olsen set up a beautiful triangle, after which the Dane was lucid enough to make the 1-0. A few minutes later, the winger ran into a similar situation when he was unable to shake the nets. And Club would complain about that lack of efficiency later in the match.
Plots 1-1
After all, Zulte Waregem was not in the mood to just accept a defeat – it is no longer the frightened team of last season. The merger club went looking for the equalizer and found it: Ukrainian left-back Oleksandr Drambaiev, who last week reached speeds of no less than 37 kilometers per hour on the Tawny Owl, managed to hold off Clinton Mata at the far post, in order to tip of the shoe to outwit Mignolet. 1-1 indeed, and that was not even undeserved. If Ravi Tsouka had headed a little better in the ensuing attack…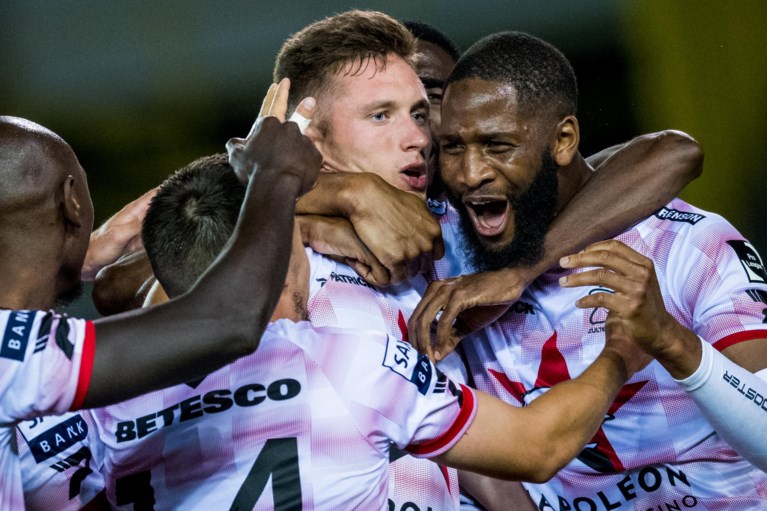 Carl Hoefkens, who could not afford another loss of points after the defeat in Eupen, had to react. He still brought Noa Lang between the lines – he didn't feel mentally ready to start due to transfer worries. Apparently, raids were possible, but that didn't yield much. It even kept paying attention.
Club starts the competition so far from convincing. It did win against Racing Genk, but it didn't sparkle then. At Eupen, the football didn't seem like anything and it wasn't enough yesterday either. It is significant and at the same time worrying that Mignolet was the best Bruggeling three times in a row.
The contrast between the two new coaches could not be greater. Zulte Waregem has been reborn under Leye, while Club Brugge is searching under Hoefkens – despite the many investments. This shouldn't last too long, the flute concert was already stinging.
By the way, we asked Sandrine Leye if we could borrow her crystal ball for the next lottery draw…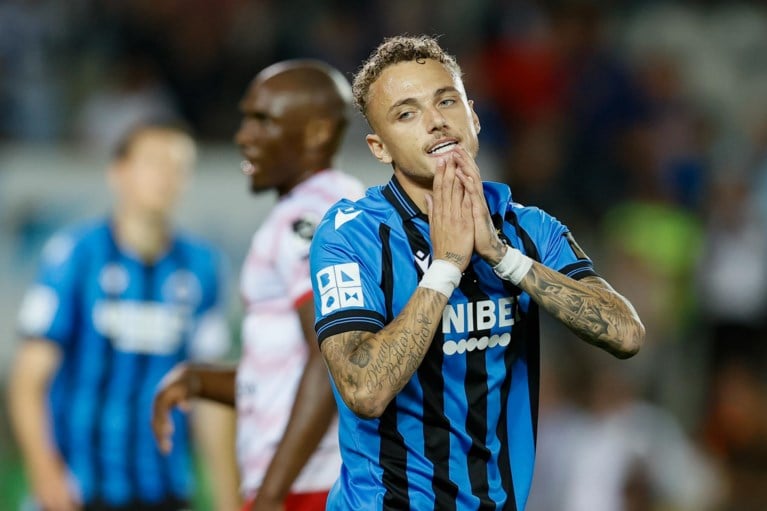 Club Brugge: Mignolet; Mata, Mechele, Otasowie (68′ Sylla); Skov Olsen, Nielsen, Odoi (85′ Former), Vanaken, Meyer (74′ Sobol); Sowah (74′ Tall), Jutgla (74′ Larin)
Zulte-Waregem: Bossut; Ciranni, Tambedou, Lopez, Drambaiev (80′ Willen); Sissako, Rommens, Vigen (66′); Fadera (80′ Hallaert), Vossen (66′ Braem), Dompé (57′ Tsouka)
Goals: 48′ Skov Olsen (Sowah) 1-0, 69′ Drambaiev (Fadera) 1-1
Yellow cards: 31′ Mata (foul), 31′ Fadera (foul), 45′ Skov Olsen (fault), 91′ Bossut, (play foul), 93′ Willen (fault)
Red cards: no
Referee: Nathan Verboomen