For rehabilitation and the remaining chance of water: this is how Elise Mertens and Greet Minnen started their double assignment against Storm Sanders and Ellen Perez. They would eventually win that event after a strong performance, but that victory could not wipe out the earlier outliers, as both lost their singles against modest opponents. A missed opportunity? Absolute. "This was not the result we hoped for", said Captain Johan Van Herck, "but it is too early for an analysis. We've played three games today, with only about twenty minutes in between. We have yet to discuss what we could have done better, and that goes for myself as well. A day off is planned for Wednesday, and on Thursday we have to wait for the results of Australia and Belarus. Whether I am going to give an incentive bonus to Belarus? (laughs) That seems more like a federation for me."
Against Greet Minnen, Australian captain Alicia Molik surprised with her choice of Daria Gavrilova, a former top 20 player who has had many years of medical misery. This year she only performed during the Australian weeks at the beginning of February, before an Achilles tendon injury killed her. That lack of rhythm, however, did not show itself during the first set. Gavrilova immediately went through our compatriot's serve, a pattern that would repeat itself for the next half hour. It was number 70 versus number 412, but that difference in ranking was not an accurate reflection of the game image or of both talent. The best maneuvers in that initial phase often started from the Australian wrist and Minnen was unable to keep the sloppiness out of her game, which put Gavrilova on the way to winning the set: 6-4.
angry looks
Despite that tap, Minnen seemed unaffected and started her second set stronger. In the fourth game, a fine forehand led to the first break and a 3-1 lead. Minnen also noted with some satisfaction that Gavrilova increasingly wanted to clap and began to produce angry looks. Then it quickly went to 6-1.
Gavrilova tried to break Minnen's momentum with a medical timeout. After a break of about ten minutes, the fight could resume. Gavrilova had bandaged her left thigh, but that medical problem didn't seem to bother her much. The set remained until 4-4 on serve. Superior tennis was rarely seen in this nerve-wracking battle, but the tension kept it interesting. In the ninth game, Minnen missed golden opportunities. Her opponent opened with two double faults, but yet another backhand miss cost her the game: 5-4. The Belgian had to serve to stay in the match. That didn't work: 6-4. "However, I felt especially in that ninth game getting the upper hand. If I grab that, maybe I can serve it out. Very sorry. But also great of Gavrilova that she immediately reaches such a level after such a long break. She will still be able to beat top players."
Elise Mertens
Like Minnen, Elise Mertens (WTA 19) faced an unexpected opponent. Storm Sanders (WTA 131) replaced the ailing Ajla Tomljanovic, who as number 43 normally has a lot more to offer than Sanders. Mertens knew her assignment. A second defeat in this international match against Australia would mean that Belgium only had mathematical chances to reach the semi-finals.
Despite two double faults, Mertens was unable to take the opening game, but the 25-year-old from Limburg gained control of the camp from halfway through. After 3-3 it quickly became 6-3. The big lesson: When Sanders is sent into the corners and has to walk, she will have a hard time. The force majeure from the first set did not continue afterwards. The best Belgian player since the Clijsters/Henin era was too erratic and could not draw sufficient return from her service games, so that a more than deserving Storm continued to cling to 6-6. In the tiebreak that followed, Mertens got into even more trouble, so that a third set had to decide.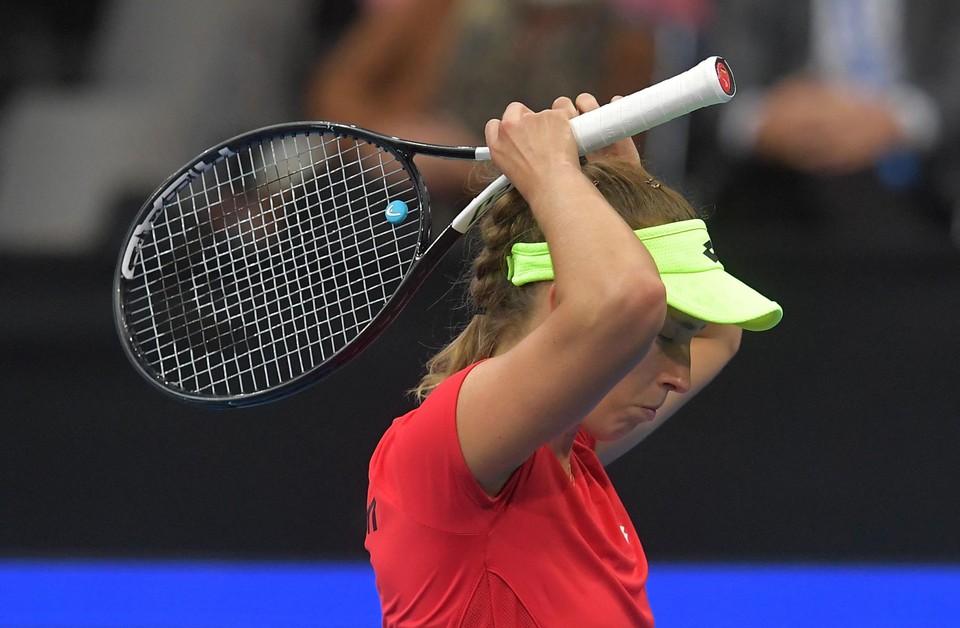 In the decider Mertens was nowhere. In two breaths, searching in vain for energy, for solutions and for something to hold on to, she trailed 4-0 against a superior Sanders. What could Mertens and by extension Belgium still save? Nothing. After just four games, she had already collected nine forced errors. And then only a further and painful journey to 6-0 awaited. Result: 3-6, 7-5, 6-0. Standings: 2-0 for Australia. "That was of course a big disappointment", says Mertens, "but I'm still happy that Greet and I were able to win that double, which still offers us a chance for the semi-finals. We doubled together for the first time and it went well right away. We played with a lot of energy. "
XXL size
Despite those two XXL-sized sacrifices, Mertens and Minnen still gathered enough courage to start their doubles. Given the circumstances – following two physical and mental sacrifices – it went surprisingly smoothly. The mission was completed in an hour: 6-2, 6-4.
There will still have to be passed Lourdes, Scherpenheuvel and Fatima, but Belgium retains a shred of hope with this 2-1 defeat. When Belarus works its way past Australia 2-1 on Thursday, the three teams ended with the same number of games won. In that case, the sets balance is the deciding factor first. And if that doesn't differentiate yet, the games decide. So a lot of calculations, which cannot hide the fact that Belgium missed a golden opportunity on Tuesday. One of the two singles was enough to be sure of the semi-final, the great ambition with which Belgium had traveled to Prague.
.