The top match of the fourth match day of the BNXT League brought Telenet Giants Antwerp a deserved victory against vice-champion Bergen in the Lotto Arena. The first loss of the season for the Hainaut. For the Sinjoren, after the loss against Kangaroos Mechelen, a great reaction. With 3 out of 4, it immediately puts the team of coach Christophe Beghin in second place next to Bergen.
The study round was for Bergen who quickly walked away 2-7. American center Cameron Krutwig quickly disappeared to the bench and his place was taken by Roby Rogiers. Matt Tiby scored for the Giants and so did Rogiers, ending the first quarter after 9-9 and 16-16 with a 19-19 score. Michael Torres fired bombs for the Hainaut team, but the Dutch Emmanuel Nzekwezi struggled with errors. That was also the case for Icelandic guard Elvar Fridriksson of the Giants. Markel Brown had meanwhile permanently disappeared from the game at the Sinjoren with a leg injury.
In the second quarter, Telenet Giants Antwerp increased the pace and was especially strong defensively. Through a dunking Roby Rogiers it went to a 37-28 Antwerp bonus after 28-26. Bergen did not immediately react and the Sinjoren thundered through to a 41-31 bonus halfway.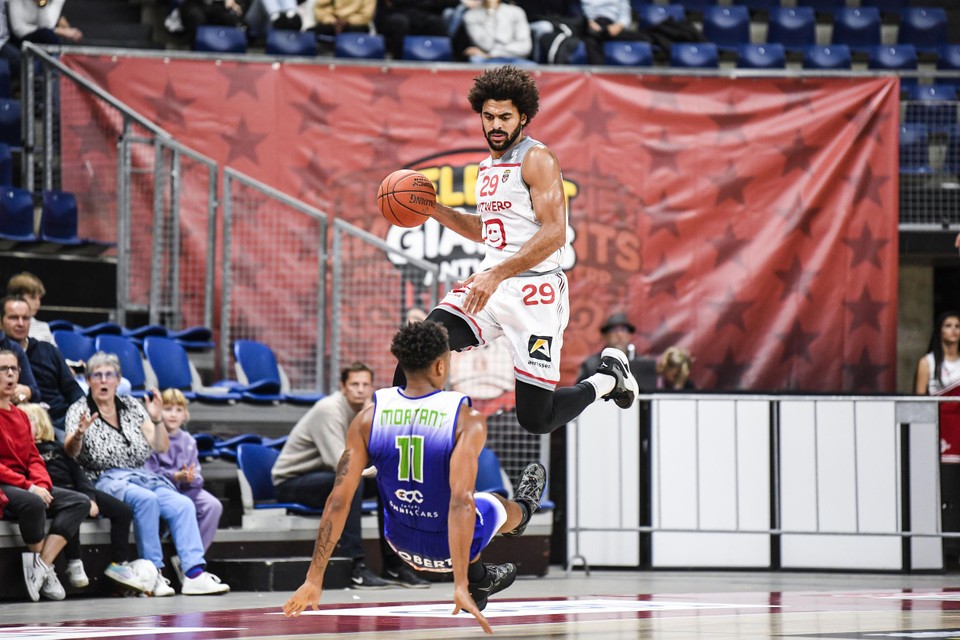 In the third quarter, the Giants remained tight in defense and especially efficient in attack. Roby Rogiers continued to dunk and scored an 8 out of 10 in shots, Dennis Donkor scored and Jean-Marc Mwema moved "mountains" of work. Matt Tiby, ex-Bergen, was also top and that resulted in a convincing 59-46 bonus after three quarters. In the final quarter it also went through Phil Cofer and after 65-48 and in maximum 67-48 lead. However, Bergen did not give up and reacted collectively with a 2-12 intermediate sprint: 67-60. Matt Tiby scored in moneytime for Telenet Giants Antwerp at an important moment. Defensively, it was also locked with the Giants and that resulted in a convincing victory.
ANTWERP GIANTS: (25 on 52 shots, of which 7 on 22 three-pointers, 16 on 18 free throws and 21 errors) FRIDRIKSSON 7, DESPALLIER 2 , MWEMA 3, TIBY 18 KRUTWIG 0, N. De Ridder 3, Rogiers 19, Cofer 12, Brown 4, Donkor 5
BERGEN: (21 on 53 shots, including 5 on 27 three-pointers, 15 on 17 free throws and 19 errors) CAGE 2, MORTANT 0, NZEKWESI 16, PASALIC 3 , HENSON 10, Torres 11, Mintogo 0 , Penava 6, Tyus 14, 0
QUARTZ: 19-19, 22-12, 18-15, 14-16
.