Alison Van Uytvanck (WTA-68) was again unable to beat the Slovak Anna Karolina Schmiedlova (WTA-115) on Monday, this time in the first round of the WTA tournament in Saint Malo, France (clay / 92,742 euros). Schmiedlova took the lead in 2 hours and 41 minutes with 2-6, 7-5 and 6-3. Elise Mertens has not been able to qualify for the quarter-finals of the doubles at the WTA 1,000 tournament in the Spanish capital Madrid (clay / 2,549,105 euros).
Van Uytvanck and Schmiedlova already battled each other in the first qualifying round at the WTA tournament in Madrid last week. There too, Schmiedlova won in three sets (0-6, 6-2, 6-0).
Van Uytvanck was keen to take revenge for the loss and steamed through to 2-6. Schmiedlova took the best start in the second set, ran to 4-1 and was allowed to serve at 5-3 for the set. Van Uytvanck straightened his back just in time and returned to 5-5. It turned out to be only a postponement of execution: Schmiedlova took the set win with 7-5. In Madrid, the 27-year-old Flemish Brabant easily won the opening set and then handed over the match and that history repeated itself. Schmiedlova completed her comeback 6-3 in the third set.
In the second round, Schmiedlova awaits a meeting with the Ukrainian Kateryna Kozlova (WTA-137) or the French home player Diane Parry (WTA-308). They will come into action later in the day.
Van Uytvanck is not the only Belgian to be on the main table in Saint-Malo. Her partner Greet Minnen (WTA-129) is also taking action. Minnen is presented with Brazilian qualifying player Luisa Stefani (WTA-771) in the first round. Van Uytvanck and Minnen participate together in the doubles tournament.
The Saint-Malo tennis tournament is in its tenth edition. At that anniversary it made the switch from the Challenger to the WTA circuit.
Elise Mertens did not have a top day either
Alongside the Taiwanese Su-Wei Hsieh, Elise Mertens lost in the second round of the WTA 1,000 tournament in the Spanish capital Madrid 7-6 (7/2), 4-6 and 11/9 to the Latvian Jelena Ostapenko and the Russian Anastasia Pavlyuchenkova. Mertens and Hsieh were unable to cash in four match points in the super tiebreak.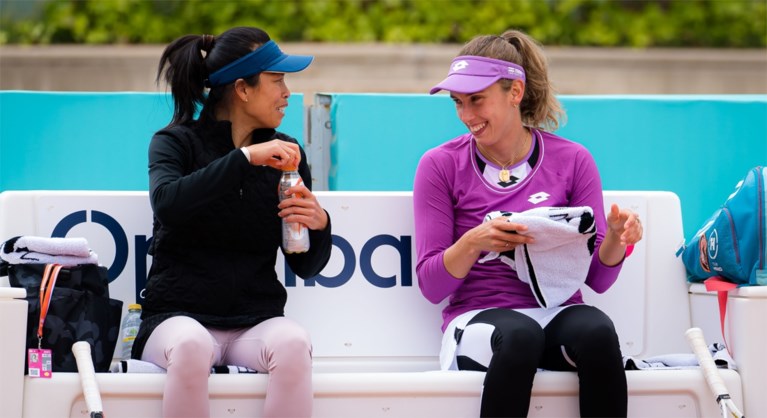 The duo were the first seed in Madrid and did not have to take action in the first round. For Mertens (number three on the double ranking) and Hsieh (number one) it was their first performance as a couple. A week ago, Mertens won the doubles in Istanbul with the Russian Veronika Kudermetova as a partner.
In the singles tournament, Elise Mertens (WTA 16) will face Romanian Simona Halep (WTA 3) in the eighth finals on Tuesday.
(Belgian)
.