A heavyweight and a featherweight enter the container on Wednesday evening. Basketball player Jean-Marc Mwema is the strongest bonk to date who will venture into the compact heptathlon, badminton star Lianne Tan seems almost everything in the opposite of Mwema. We spoke to the two athletes just before their participation.
Jean-Marc Good(video above)
Basketbalspeler
Age: 31
Length: 1m95
Weight: 104kg
Palmares: Strong holder of Ostend and the Belgian Lions, four-time Belgian champion, three-time Belgian cup winner
Jean-Marc Mwema has been the beating of BC Oostende, the best basketball club in the country, and the national team for years. In The Container Cup, the basketball-playing bear mainly hopes to make a difference in the strength tests. "But I saw Dirk Van Tichelt on the bench press last season and I'm afraid I won't gain weight." Mwema also owns several hamburger restaurants where the specialty is "waffle burgers". He likes to explain in the video what that is correct.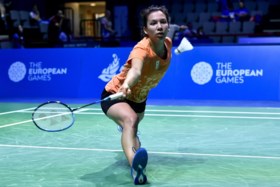 Lianne Tan (video above)
Badmintonster
Age: 30
Length: 1m60
Weight: 57kg
Palmares: First Belgian badminton player ever at the Games (17th and 27th), silver medalist at the European Games.
Lianne Tan has been the showcase of the Belgian badminton sport for a decade. "It is a very complete sport. Both in terms of technique, tactics, speed, reflexes, … It goes very fast. The shuttle travels more than four hundred kilometers per hour. It is the fastest racket sport in the world. " She became Belgian champion twelve years in a row. "I don't know how much more I want on my record. As long as I feel that I can still make progress, I will keep going. "
Watch the episode with Lianne Tan and Jean-Marc Mwema tonight at 19:55 on Play4.
Top three men
1 Tim Declercq 9:36.25
2 Jarni Amorgaste 9: 38.86
3 Jasper Philipsen 10: 16.15
Top three women
1 Delfine Persoon 10: 40.36
2 Lize Broekx 10: 41.86
3 Loena Hendrickx 12: 57.36